Seiring dengan berjalannya waktu, pada tahun 2017 MBUII mencoba hal yang baru, yakni perlombaan Drum Band tingkat TK dan SD yang diberi nama Indonesia's Marching Kids Competition (IMKC). IMKC merupakan salah satu rangkaian kegiatan MBUII Festival dalam memperingati Milad MBUII yang ke-33. Proses perjuangan yang sebelumnya telah dijalankan, pada tahun 2018 ini kembali diaplikasikan yaitu sebuah bentuk perlombaan dimana pertandingan tersebut bertujuan untuk membantu para partisipan dalam memperjuangkan kejayaan band mereka agar lebih bersinar kedepannya.
Dengan tema besar Diamond's Adventure "Keep Practicing to be The Brightest Person" tahun ini Marching Band Universitas Islam Indonesia mengadakan kembali Indonesia's Marching Kids Competition yaitu perlombaan Drum Band TK dan SD Tingkat Provinsi Daerah Istimewa Yogyakarta dan sekitarnya. Dengan banyaknya unit Drum Band TK dan SD di wilayah Yogyakarta dan sekitarnya, dari situ lah terlihat antusias dari berbagai sekolah TK dan SD akan kegiatan Drum Band ini membuat kami semua tersadar bahwasanya mereka adalah para pemuda yang notabene akan menjadi penerus bagi kita dan akan membawa nama baik Indonesia dimanapun mereka berada.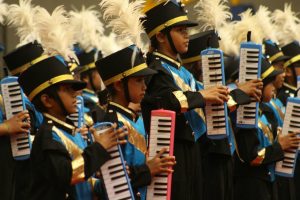 Pada tahun ini, IMKC 2018 memiliki kategori lomba yang baru, yakni kategori lomba Individual Contest. Kategori ini adalah salah satu dobrakan baru di IMKC 2018 tahun ini. Ada beberapa kategori dari lomba Individual Contest ini yaitu section Pianika, Snare Drum, Marching Bells, dan Color Guard. Perlombaan IMKC 2018 akan dilaksanakan pada tanggal 14-15 April 2018 di Gor Ki Bagoes Hadikoesoemo Kampus terpadu UII.