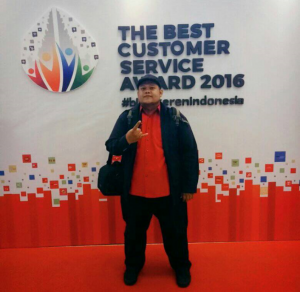 Alumni of The Month merupakan bentuk apresiasi kepada Alumni dengan metode mengupas pengalaman beberapa alumni yang bertujuan memotivasi dan menginspirasi anggota MB UII untuk berkontribusi dalam kegiatan MB UII.
Untuk bulan Maret 2017, kami mengupas pengalaman Mas Syukrie dalam berorganisasi di MB UII.
Data Lengkap:
Nama Lengkap : Syukrie Suaib S.Psi
Nama Panggilan : Syukrie
Stage : 18
Tempat/T.Lahir : –
Domisili : –
Pengalaman keMarching Band-an:
Player Tuba GPMB 2002
Player Color Guard Contest HB CUP
Player Color Guard GPMB 2003
Sekretasis Umum MB UII 2003-2004
Ketua MB UII 2005-2006
Dewan Penasehat Organisasi MB UII 2006-2007
Aktif dalam berbagai kegiatan MB UII tahun 2002-2009
Pesan untuk seluruh Anggota MBUII sekarang:
Berkreasilah, berjuanglah, terlibatlah, nikmatilah, jalankanlah, bertanggung jawablah dan tetapkan dalam hati bahwa akan sangat banyak hal yang bisa kalian dapatkan di organisasi ini.
Tidak selamanya kita akan berada di MB UII, lahirkanlah calon penerus baru MB UII.
Di kemudian hari, kalian akan merasakan betapa beruntungnya kalian terlibat dengan kepengurusan MB UII.
Sebagai anggota, player dan sebagai pengurus adalah pilihan. Kita semua merupakan bagian penting dari MB UII karena kita adalah keluarga.